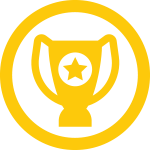 CONGRATULATIONS ON GRADUATING
CONVERSATION COUNTDOWN
Overcoming the fear of speaking your target language
IS HARD FOR EVERYONE
But it really does pass. The catch is, though, that it can only pass when you get the first time over with. And then it gets easier and easier from there.
I've gotten hundreds of emails this week from readers like you thanking me for creating my new course, saying that this week was a turning point for them in their language hacking lives.
DON'T STOP HERE!
If you enjoyed the guidance and direction that this week's course provided, then keep going with my PREMIUM immersion package. I designed it to set you up with a successful language learning schedule for the long-term.
My team and I created PREMIUM to help you continue your language project at any level. Once you're in, you'll get more video tutorials for how I use my favourite apps and websites to learn languages, private video interviews between me and other famous polyglots, and a painstakingly-researched database of resources that we've spent years creating for you.
Because you're a Conversation Countdown graduate, you can get into PREMIUM at a discounted rate using this private link.
Don't waste this momentum … USE it!
HAPPY LANGUAGE LEARNING!