Buy Fluent in 3 Months Premium, and I'll Throw in 6 Language Guides for Free (value $234).
A note about Fluent in 3 Months Premium:
This weekend I'm launching 6 new language hacking guides. After this weekend, they will cost $39 each – or $234 for all six guides.
Until Monday at midnight EST I'm offering an amazing deal - sign up to Fluent in 3 Months Premium, and you'll receive all six language hacking guides for free.
This is a one time deal I will NEVER offer again.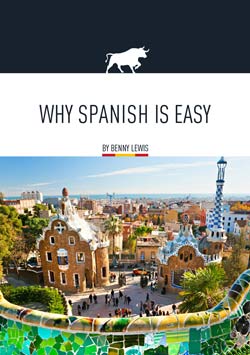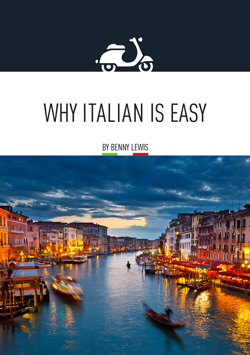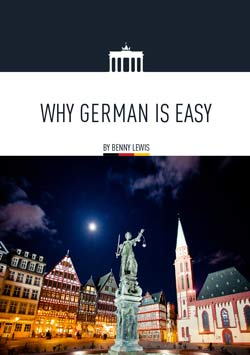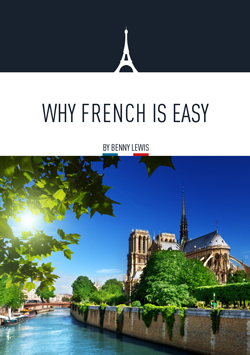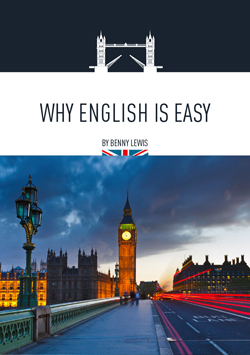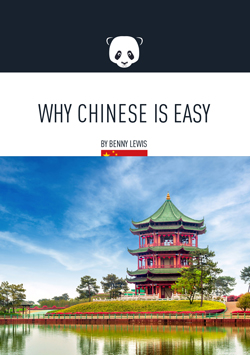 SPEAKING A SECOND LANGUAGE
LANGUAGES ARE AN INVITATION TO A WHOLE NEW WORLD.
The freedom to travel anywhere
The confidence to start a conversation with anyone
The adventure of speaking to people in their own language
Learning a new language stimulates your brain. It allows you to experience other cultures from the inside. And it gives you the confidence to start conversations with people you'd otherwise never have met.
freedom • confidence • adventure
I've asked thousands of language learners about their biggest barriers to speaking a new language.
"I don't know how to find the courage to talk to people"

-
"I get nervous when initiating a conversation"

-
"I'm scared of making mistakes and looking stupid"

-
"I don't want to look like a fool in front of strangers"

-
Do you identify with any of these comments?
I did, for sure.
We all want to be dedicated, motivated language learners. We all know that we should be determined and committed. We all want to impress our friends with our language smarts.
The reality?
When I moved to Spain, I lived there six months, and I was still terrified of starting a conversation in Spanish. I took language classes. Even then, I didn't have the confidence to go out and talk to people.
We know we "should" study grammar. We know we "should" set aside a time for language practice every day. We know we "should" memorize vocabulary.
But does any of that ever happen?
No. Instead, we think we're stuck with our "limitations". We believe that language learning is just for gifted geniuses. We tell ourselves that we're too old, or that we're unable to travel, or that we've got a poor memory.
None of those needs to hold you back.
You might know me as the author of the #1 best seller Fluent in 3 Months. Or you might have seen me profiled in National Geographic or speaking at TEDx.
Over the past 10 years, I've traveled to over 40 countries, become fluent in eight languages, conversational in another four and I've gotten by in another 12 languages.
Thanks to my adventures and the charm of my lilting accent I've been given the nickname
Benny the Irish Polyglot.
You've probably guessed that it hasn't always been this way.
Confession time.
When I started out, I didn't have a clue about learning languages. I'm not "natural" or "gifted" with languages. And I don't consider myself a particularly dedicated learner.
How have I learned so many languages?
Here's what changed things.
I figured language is about communication.
It's about meeting interesting people.
It's about discovering new worlds.
It's a social thing.
Yet so often, we make language learning about sitting at a desk, reading from a textbook. All the fun and passion are drained away. And language learning should be all about fun and passion.
In other words, I found that if I simply started speaking a language, from day one, and immersed myself in that language, I naturally picked it up.
By meeting interesting people, and wanting to know more about them, I found I wanted to learn.
Motivation was key - and I'll show you how to find yours. Confidence is also vital - again, I'll share how you get that. With confidence and motivation, you can learn any language. But you will hit roadblocks. That's why I developed systems to help me learn faster.
I shared the essentials of my language learning systems in my bestselling book Fluent in 3 Months.
Now, I'm ready to open the lid on everything...
Introducing Fluent in 3 Months Premium:
Everything You Need to be Confident in Speaking Another Language
With Fluent in 3 Months Premium,
you'll open the doors to the adventure of language learning.
Here are just some of the things you can do once you know
the real secrets to learning a second language:
Travel the World

• Immerse yourself in a full cultural experience with every new place you visit
• Have the confidence to live abroad
• Understand the cultures you visit from the inside

Embrace Your Passion for Learning

• Fall in love with language learning. It's all about passion!
• Stimulate your brain by reading books and newspapers in your new language
• Get a broader perspective as you discover new ways of thinking
Re-ignite Relationships

• Have the confidence and courage to start a conversation with anyone
• Impress your family and friends with your language skills
• Learn how to blend in anywhere

Live Your Dreams

• Find the overseas job you've always dreamed of
• Meet new and interesting people
• Make the most of every opportunity
Here's what's waiting for you inside Fluent in 3 Months Premium:
(click to the titles to learn more)
"Language software can costs hundreds and hundreds of dollars. Workbooks and courses just as much. When I look to spend my money on something, I look to buy from someone with the "heart of a teacher" who has walked-the-walk. In the realm of language learning, that person is Benny Lewis. In this area, I've never read a more valuable product. Benny has sparked my interest in learning another language, and shown me that I really can do it! You won't regret picking up a copy of Fluent in 3 Months Premium! I sure don't!"

Adam Baker

Manvsdebt.com
"Benny has an awesomely unconventional approach to learning languages, stressing the importance of confidence in your own abilities, and the necessity of action over perfectionism. He also has helpful tips for making the time to learn, and unique ways to connect with native speakers, whether you're at home or traveling. If you want to learn new languages, Benny's Fluent in 3 Months Premium is invaluable!"

Cody McKibb

thrillingheroics.com
"Benny's book and bonus course is one-of-a-kind out there. In it he addresses some of the critical things that other language books neglect; how to maintain the right attitude while learning a foreign language, how to deal with frustrations, and how to establish an immersion environment without actually being in the native country. I would've paid double the price for Premium because it has saved me months if not years worth of time in learning a foreign language in the optimal way!"

Mike Zhang
"I loved the fact that a series of interviews and a handful of worksheets accompanied the Fluent in 3 Months Premium package and I really felt that it was well worth the money. The worksheets were really helpful in making me pinpoint my language learning goals etc. and listening to all the interviews really made me inspired to work harder towards my goals. I appreciated the fact that Benny emphasized the crucial difference between "thinking about" and "doing" and I absolutely loved the fact that he didn't sugar-coat everything and that he strongly encouraged his readers to stop being timid recluses and to just speak in their target language."

Alysia Raine

Try Fluent in 3 Months Premium risk-free: 30-Day No Questions Asked Guarantee
I'm certain that Fluent in 3 Months Premium will give you everything you need to learn a new language. If for any reason it doesn't, I insist you have your money back. Just email me within 30 days of joining, and I'll send your refund. No questions asked.
Buy Fluent in 3 Months Premium, and I'll Throw in 6 Language Guides for Free (value $234).
START YOUR LANGUAGE ADVENTURE, TODAY!
Get lifetime membership to Fluent in 3 Months Premium for a one time payment of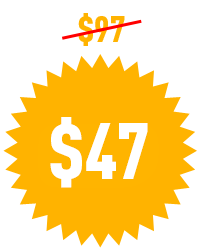 *The bestselling book Fluent in 3 Months is available to purchase online or at your friendly local bookstore. By enrolling in this program you will learn all the techniques from the book and much, much more.